Rooms vs Common Areas in Water Damaged Hotels in Rogers
9/25/2017 (Permalink)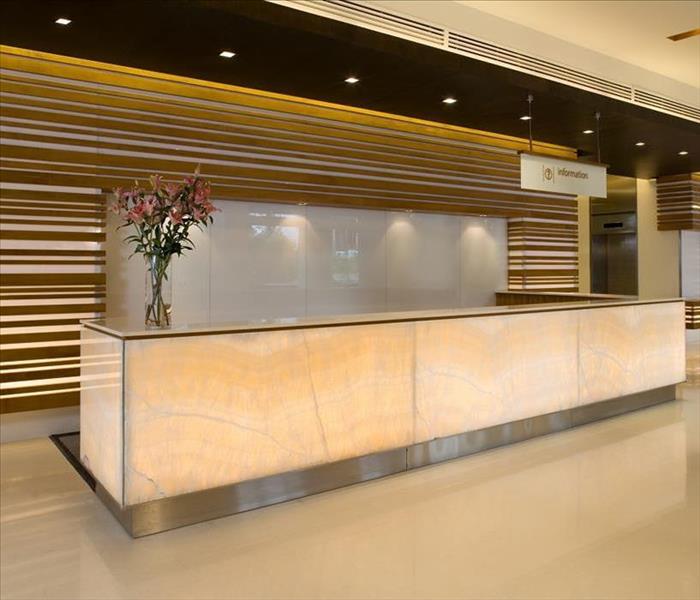 SERVPRO focuses first on common areas, such as the lobby, to keep your hotel functioning as normal as possible in the case of water damage.
Fast and Efficient Water Damage Restoration for Hotels
Be it the fault of a guest, employee, or no one at all, water damage in a hotel in Rogers is an unfortunate but common sight. Scores of small bathrooms and their appliances can break or overflow, sprinkler systems can malfunction, and storms can cause damage due to guest carelessness or simply through their vigor. Whatever the case, contacting SERVPRO ensures that the issue is resolved quickly, completely, and in compliance with government regulations and insurance.
We most commonly see water damage in Rogers' hotels centered in an individual room. Whether a guest left a window open for a storm, broke a bathroom appliance, or caused some other form of a mess, unique incidents shape our relationship with the majority of local hotels. These cases tend to handle very differently from residential jobs or even water damage to apartments, as hotel rooms have different plumbing standards and layouts and different types of appliances. A profile in the SERVPRO ERP system can help us a great deal, as it may allow us to view floor plans and unique features of each room. With this information, we can conduct cleanup and restoration faster and with fewer inquiries.
Water damage in lobbies and common areas, while less common, are often significantly more costly. Instead of a single room closing temporarily, an entire section of the hotel must often be shut down or have prices marked off. Sprinkler malfunctions and floods can cause some of the worst damage, thoroughly soaking carpets and wreaking havoc on certain electrical and decorative elements of the hotel. Should a hotel take damage in both rooms and common areas, our focus is first on the larger, more well-traveled common spaces to allow basic functionality to return to normal as quickly as possible.
SERVPRO of Benton / Carroll Counties is quick to respond to local businesses' calls, bringing quality care and service when it is needed most. Contact us at (479) 787-7377 for our services.
Visit http://www.rogersar.gov/ for more information about Rogers, Arkansas.