Stormy Days and Nights Can Cause Flood Damage to Your Rogers Home
3/20/2019 (Permalink)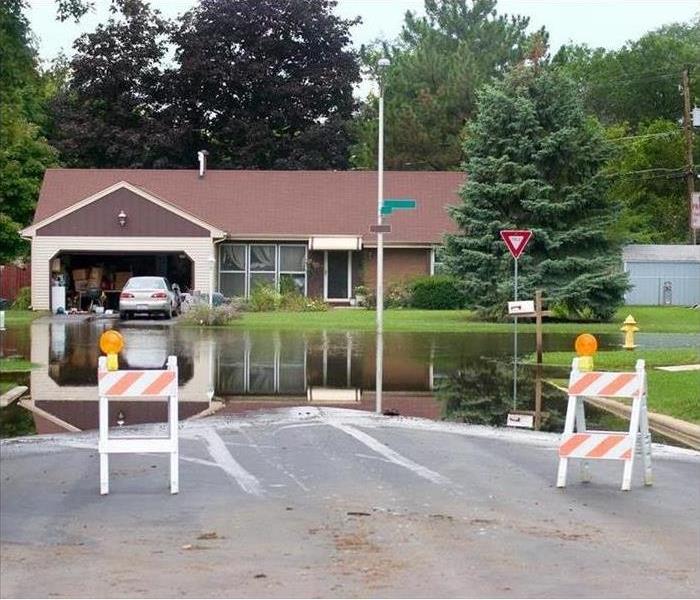 If your home experiences flood damage of any size after a storm, call SERVPRO to extract the water and restore your home.
Professional and Thorough Flood Damage Restoration Services
Weather comes with many surprises and not all bring pleasant clear blue skies to Rogers. Some can create beautiful days that turn stormy and full of lightning strikes, raining down on our heads. Hail can happen, also, and destroy or damage anything fragile hit by any of the ice hurling toward the ground.
Property owners in Rogers can find their residence with flood damage during one of these storms and in need of professionals who can skillfully remediate the damaged areas. At SERVPRO, we have the tools and equipment required, ensuring that no job is too complicated nor too mundane for us. Even slight flooding needs proper care to prevent further problems from developing.
When basements or crawl spaces flood, pump trucks effortlessly remove the excess water. As we reduce the amount of water in your home, we begin cleaning and sanitizing the surfaces of all loose items. We also take bedding and other textiles outdoors to air out from any encased moisture due to elevated humidity levels.
Once water extraction efforts are complete, we can then begin working on preventing problems involving microbial growth. Mold starts to grow in high-moisture areas in a short time – 48 to 72 hours can show significant spikes in mold populations in an enclosed area. Application of a growth inhibitor can save your property from this secondary kind of damage. This inhibitor is highly effective but also safe, once dry, around children and pets, so there is no reason to worry.
Other microscopic particulates produced when flood damage occurs within a home can cause problematic odors. These odors can linger and become more pronounced during elevated temperatures. Our Odor Control Technician (OCT) is highly skilled in the latest techniques that eliminate odors instead of masking them. Eliminating these smells prevents them from recurring.
SERVPRO of Benton / Carroll Counties wants to assist our local families whenever there is a problem with flood damage involving their home. Keeping family homes intact and safe keeps our community vibrant and healthy. Our customers are our neighbors and highly valuable to us as individuals and as a company. We can be reached at any time, day or night, every day of the year. Contact us at (479) 787-7377 for assistance with any catastrophe.
Visit http://www.rogersar.gov/ to learn more about Rogers, Arkansas.