What SERVPRO of Benton / Carroll Counties can do for your commercial business?
4/17/2020 (Permalink)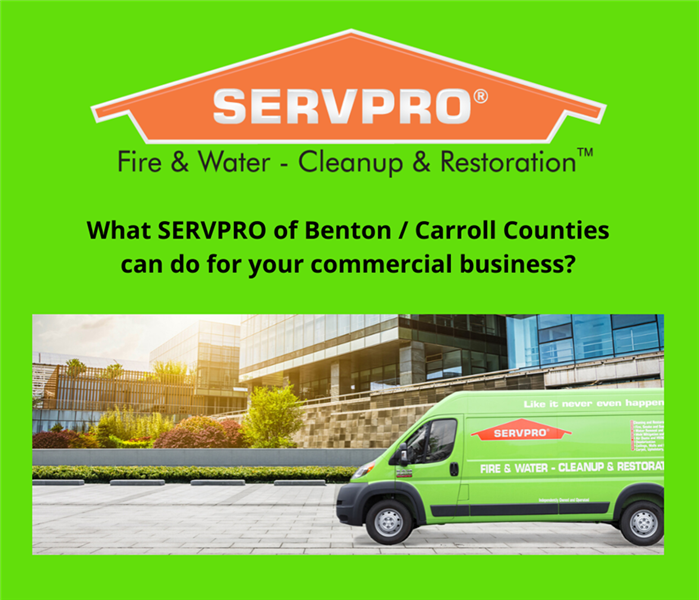 Your building, equipment, and contents are corner stones to achieving success.Choose SERVPRO to get it done, right!
Business owners invest huge amounts of time, energy and resources to grow, maintain, and protect their business. Your building, equipment, and contents are corner stones to achieving success.
Experiencing fire, water or mold damage in your facility requires a fast response, knowledge, and experience to handle the situation professionally. Getting your business back into operation quickly and responsibly is our top priority.
SERVPRO of Benton/Carroll Counties is committed to being the premier water, smoke, fire, and mold mitigation company in northwest Arkansas. Our people, experience, and knowledge make us the best choice to reduce business interruption and reduce recovery costs.
Disinfect and Sanitize
SERVPRO technicians use hospital grade disinfectant, as recommended by the CDC. Our disinfectant is EPA approved to kill viruses similar to the coronavirus. Our trained technicians apply disinfectant to hard surfaces including counters, tabletops, doorknobs, light switches, phones, keyboards, tablets, bathroom fixtures and toilets. SERVPRO technicians also apply disinfectant to the following commercial spaces as suggested by the CDC:
Kitchen/Food Areas
Bathrooms
Schools/Classrooms
Offices
Retail Spaces
Water Fountains
Shelving/Racks
Sales Counters
Carpets and Rugs
Stair Handrails
Elevator Cars
Playground Equipment
Fitness Equipment
Water Removal and Drying
SERVPRO identifies the source and type of water. Our IICRC trained technicians determine the proper course of action. We set state of the art drying and dehumidifying equipment to control temperature and humidity. This minimizes any secondary damage.
Fire, Smoke, and Soot Restoration
The materials that burned, temperature of the fire, and amount of oxygen present during the fire determine the restoration process. Our experienced technicians have the knowledge and skill to save property and money in the restoration process.
Mold Mitigation
Our highly trained professionals work to control and remediate mold contaminants while protecting your health and safety.
Deordorization
The professionals at SERVPRO know the first rule is to remove the source of the odor. The second rule is to clean the affected area. SERVPRO has the proper equipment and training to eliminate a wide range of odors.
SERVPRO of Benton/Carroll Counties should be your first choice for any commercial or residential restoration needs. Our team of professionals is trained to assess the damage and potential threats, extract and contain the affected area, dry, and restore your property to preloss condition. Call us at (479) 787-7377.