Electrical Fire Safety for your Bentonville Home
2/19/2020 (Permalink)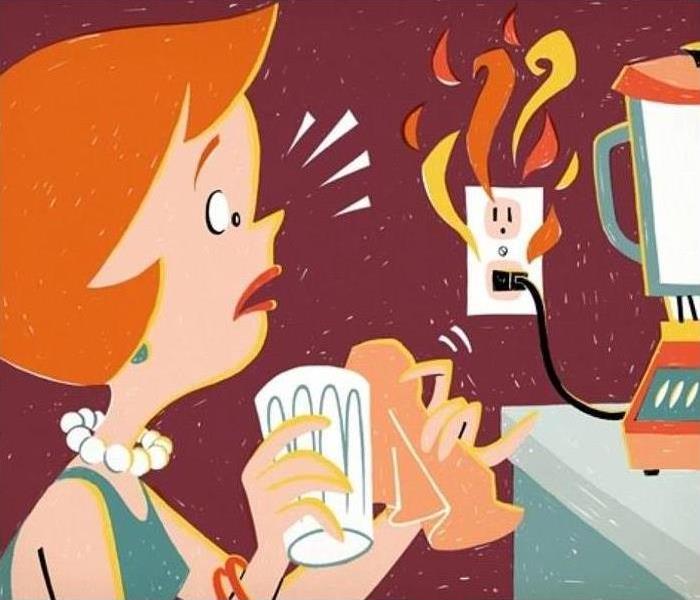 SERVPRO is Here to Help for any fire damage situation! From packing out your belongings and cleaning them, to restoring your home!
Fires often begin suddenly and unexpectedly. Common causes of an electrical fire may be difficult to detect in advance and include faulty outlets, wiring and appliances. Every business owner can train staff on proper extinguishing techniques and take several precautionary measures to reduce the likelihood of injury in this type of fire. While no one wants a fire to happen in their business, proper precautions are the best prevention!
Preventative Measures
The following three recommendations will help reduce the likelihood of an electronic device catching fire in your office:
Do not overload extension cords or use them for prolonged periods of time
Avoid running cords under rugs
Never tamper with plugs or attempt to remove prongs
Handling an Electrical Fire
A timely response to a fire can help minimize damage. Taking time to ensure your staff knows the proper procedures will enhance the safety of both your employees and your internal assets. To effectively respond to an electrical fire, you should follow these guidelines:
Switch off the device, if possible
Unplug the affected appliance or device
Smother the fire with a blanket, jacket, or fire extinguisher
To prevent electrical shock, avoid spraying the object with water
Avoid Restarting Damaged Equipment
Once the fire is extinguished, do not attempt to plug in the device or start it. Water, grimy soot residue and damaged, exposed wiring present safety issues that can cause the unit to not function properly.
Salvaging Equipment
To properly assess damaged equipment and determine if it is salvageable, each affected device needs to be dried and cleaned of soot. Computer cleanup endeavors should also include disconnecting all cables as well as removing the hard drive and the battery.
Whether or not a device can be salvaged depends on how much heat and water the item was exposed to. The severity of the Heat and Water determines the damage to the circuits and wiring. Because the internal components of computers and other electrical devices are both intricate and delicate, you may wish to consult SERVPRO to clean your content delicately.
SERVPRO of Benton & Carroll Counties should be your first choice for any residential or commercial restoration needs. Our team of professionals is trained to assess the damage and potential threats, extract and contain the affected area, dry, and restore your property to preloss condition.
SERVPRO of Benton & Carroll Counties is available 24/7 by calling 479-318-6774.
For more about SERVPRO of Benton & Carroll Counties, click here.