What to Expect from Our Bella Vista Mold Damage Remediation Crew
8/26/2018 (Permalink)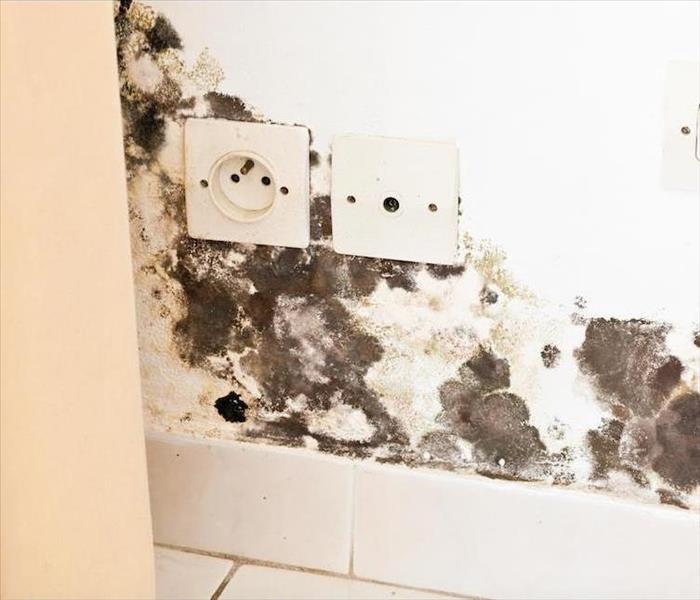 Finding mold in your home does not need to be a reason to panic. Contact SERVPRO and we will mitigate the damage.
Team SERVPRO Understands Mold and What it Needs to Proliferate
Plenty of information is on the internet and social media about mold and the health effects it can cause. The sheer quantity of cautions and concerns about residential mold damage make it hard not to panic if you sniff a musty odor or peek a patch of dark staining or feathery microbial growth. To safely and efficiently deal with a potential mold problem ask for an assessment from one of our mold abatement specialists.

Summers are hot and muggy, the perfect environment for mold damage in Bella Vista if safeguards are not in place. Even the most vigilant homeowner might find it taxing to monitor all the mold hot spots in a residence. A minor plumbing leak, a spill that recurs daily near a pet's water bowl, or even an inappropriately sized or poorly draining AC unit can fuel the growth of mold colonies. Until you arrange to eliminate the excess water, any mold abatement might be temporary. Our highly skilled remediation crews can remove current mold colonies and take steps to inhibit future mold growth in part by reducing the prevalence of mold spores to normal levels.

What we cannot promise is a complete elimination of the mold spores that inhabit our living, playing, and sleeping spaces. Without a consistent moisture source, however, mold spores typically present few risks to your property's structural integrity or a low possibility of causing any health effects. Mold spores that absorb even a minute amount of water start a process that results in the growth of significant mold colonies on available organic surfaces. SERVPRO's mold remediation crews employ the Environmental Protection Agency (EPA) protocols when managing a mold outbreak.

First, the SERVPRO team determines the location and extent of the mold infestation. Mold does not need a source of light to thrive so we investigate cavities between walls, under floors, in closets, or behind curtains or heavy furniture. Once we describe the perimeters of the mold colonies, we plan for adequate containment to prevent the drift of moldy debris.

Smaller collections of microbial growth might need only heavy plastic sheeting barriers. An added precaution that improves outcomes for larger outbreaks is the use of air scrubbers, a negative pressure vacuum type system that employs ductwork and HEPA filters to avoid airborne or tracked in mold to spread when we disturb it during mechanical removal. SERVPRO technicians wear personal protective equipment as they brush, scrape, and use abrasive processes like soda blasting to clear the affected surfaces of mold colonies.

EPA registered antimicrobials treat the targeted areas, inhibiting resurgence of the mold. SERVPRO employees use HEPA filtered vacuums to remove residual moldy materials left after removal. A final review of the identified moisture sources ensures they no longer encourage mold growth.
The mold remediation team at SERVPRO of Benton / Carroll Counties uses the industry's best practices to abate mold damage in your home. Call (479) 763-3220 for a consultation if you even suspect mold might be multiplying in your home.

Click here for more information on the city of Bella Vista.