Hidden Problems With Used Dishwashers in a Siloam Springs Kitchen can Cause Commercial Water Damage
9/21/2018 (Permalink)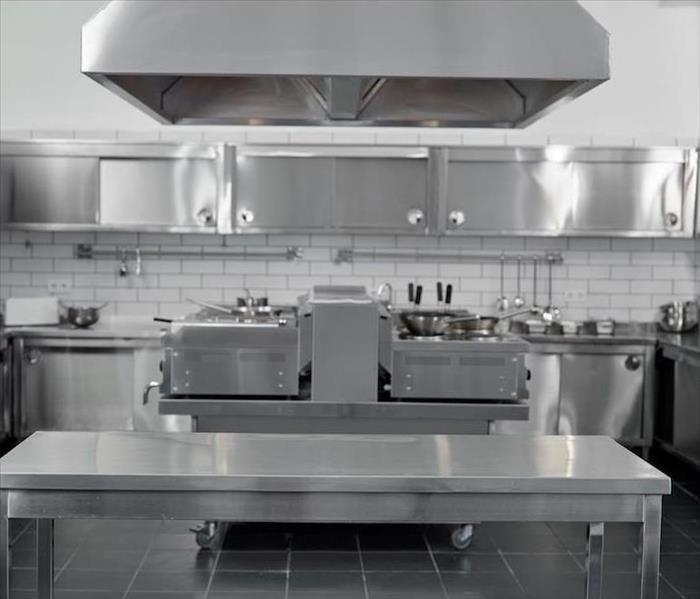 If your commercial kitchen suffers from equipment break down, contact SERVPRO technicians complete the water cleanup.
Problems with Second-Hand Appliances Require Commercial Water Cleanup in Siloam Springs
New business ventures in Siloam Springs often try to reduce start-up costs as much as possible, especially in the very beginning. Doing so can cause more harm than good, though, when second-hand appliances malfunction. Using a 'new' dishwasher in your new restaurant can cause serious problems when the housing leaks hot soapy water all over your floor.

When a new business forms, it benefits our local economy, so preventing permanent damage with prompt and professional commercial water cleanup in Siloam Springs when disasters happen is crucial. SERVPRO crews are always on standby to help with such accidents by thoroughly cleaning them up. Preventing soggy floors and microbial growth protects your business from ever-increasing problematic situations.

Our crew members hold certificates in mitigation from the IICRC, and we understand how such disasters can affect your business. We mitigate using water cleanup methods that remove the water and undo the damage already caused. Removing the water and returning water vapor levels in the air to normal levels eliminates the possibility of future damage from occurring.

Airing out the kitchen where the incident happened can help keep humidity low, but we must concentrate our efforts on drying out the floor, also. Heated mats help achieve this as they increase the rate of evaporation and then extract the moisture, collecting it in a special chamber. We dispose of this water when full.

When the moisture readings show the area is once again within the normal range for that type of material, we can check for permanent damage. Permanent and unwanted changes are much more likely when the water was hot and contained soap than if the water was cold and free of any other additives. Restoring your restaurant's kitchen floor after a major spill is vital to preventing falls due to uneven flooring. Depending on the type of flooring, we may replace part of it with similar material or remove it so we can restore it more easily. We always discuss such issues with you so you can decide which option works best for your needs and goals.

SERVPRO of Benton / Carroll Counties can help your Berryville, Bella Vista, or Lowell business keep its doors open and continue serving the public. Contact us when you need water cleanup services to get things normal again, "Like it never even happened," by calling (479) 763-3220, 24 hours a day, every day of the year.

Click here for more about in Siloam Springs.