Ultimate Solution to Water Damage in Your Siloam Springs Home
9/30/2018 (Permalink)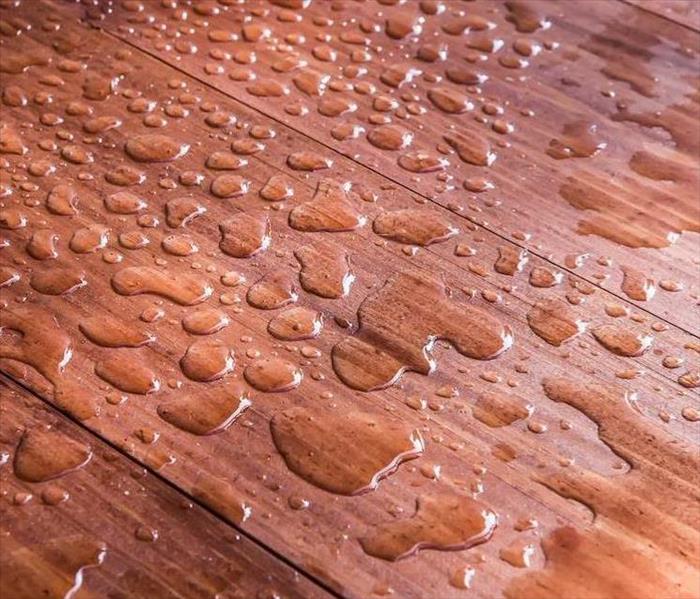 Drying out your water damaged hardwood flooring too fast or too slowly can cause it to buckle. Contact SERVPRO when requiring water removal services.
Why You Need Professional Water Removal for Hardwood Floors in Siloam Springs
Water removal can appear straightforward when your Siloam Springs home experiences what seems like a minor flood. Because water drains into cracks and hidden cavities, you may think it is gone and no longer poses a risk. Many materials used to construct your home absorb moisture, swelling, warping, or crumbling in places you cannot easily see. Our technicians use sophisticated moisture monitoring equipment to find and remove the water before using effective structural drying strategies.

A common complication when water removal in Siloam Springs is incomplete in your house is permanent hardwood floor damage. Water that floods over your beautifully finished floors also sinks into and soaks the subfloor. If moisture levels do not return to normal quickly, the planks of your hardwood floor can experience warping, buckling, cupping, or crowning. Advanced water extraction and drying methods stop progressive damage and can reverse many of the effects of the moisture.

After an assessment of the damage by our crew chief, SERVPRO technicians swing into action to restore your hardwood floors. Our service vehicles always contain pumps, wanded water extractors, air movers, heaters, and dehumidifiers. We also have special drying mats designed to pull moisture out of multiple levels of wood flooring. Our crew uses the pumps if the water is deeper than 2 inches, and then moves to extractors to clear the visible water.

The floor drying mats operate by creating a vacuum to remove the water saturating the hardwood and supporting subfloors. SERVPRO technicians measure moisture levels across the surface and position the mats to extract most efficiently. Edges of the mats are sealed to the floor with tape and hoses link the mats to negative air pressure suction, intended to extract the moisture.

Drying the surfaces at all levels is essential. If the top layer is dried out without addressing the water in the subfloor, a number of problems can arise. The lingering moisture can resaturate the top layer, causing the wood to cup, or push up on each edge of a plank. If the floor is sanded to even out cupping before the moisture in the material measures at a normal level, crowning occurs, with the center of each plank higher than the edges prematurely sanded down. Monitoring all the changes and interpreting the results requires training and professional experience in the science of drying.

When you need water removal, SERVPRO of Benton / Carroll Counties is ready with the trained technicians and appropriate and advanced equipment. Call (479) 787-7377 as soon as practical to arrange for an assessment and development of a water removal plan.

Click here for more information on the city of Siloam Springs.