Our Crew Is Your Best Option When Mold Causes Damage To Your Home In Bentonville
1/2/2019 (Permalink)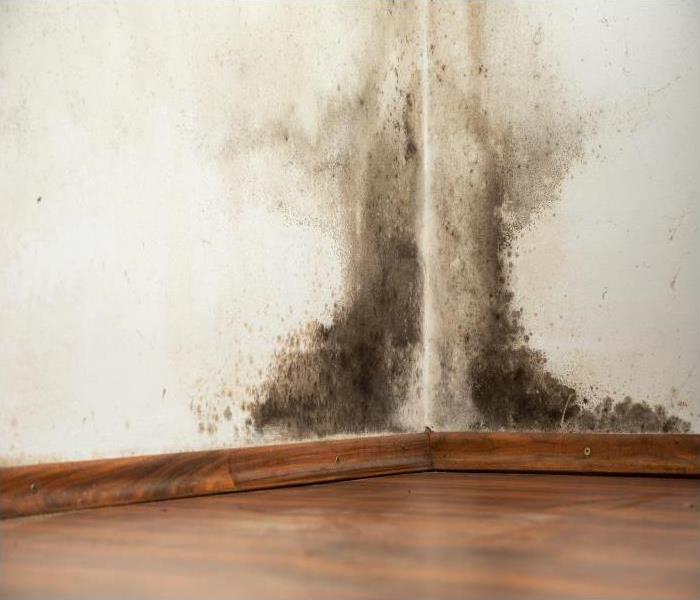 SERVPRO of Benton / Carroll Counties is ready to assist with mold remediation any time a homeowner suspects a problem.
Mold Damage Respects No Season In Bentonville
It may come as a shock, but mold spores can grow and damage your home in Bentonville 12 months out of the year. Although many mold species prefer warmer temperatures, the fact is fungal infestations of one or more of the roughly 100,000 identified types could find your home hospitable in any season. Our company educates our microbial abatement technicians about remediation techniques that work at in any environment at any time.

In the colder months, mold damage in Bentonville can result from moisture buildup from ice dams. Ice dams result when gutter and downspout systems clog from leaf litter, improper installation, or damage -- often due to a combination of these factors. Precipitation does not drain away as needed, and colder temperatures cause a cycle of freezing and melting that forces moisture under roofing materials and through the eave joints. If the attic area has insufficient insulation warm air from the house exacerbates the problem, accelerating the melting while opening spaces for the water to intrude.

Moisture plus the spores always present in the air and on surfaces results in mold growth in the hidden spaces of your upper levels. SERVPRO crews are familiar with the phenomenon and are masters of methods to remediate the damage. We follow the Environmental Protection Agency (EPA) protocols when responding to mold damage to keep you and your family safe while managing the problem efficiently.

The SERVPRO crew chief assesses the extent of the mold damage, including tracing the potential migration of the colonies as we follow the movement of the moisture. We contain the moldy area, using physical barriers such as heavy plastic sheeting, and considering employing technology such as negative pressure air scrubbers that filter and vent the contaminants during the project.

We use mechanical methods to remove the mold, brushes, and scrapers accomplishing the task. If porous materials are affected, techniques like soda blasting remediate the structural components in many cases. The SERVPRO crew bags and disposes of the moldy materials according to local regulations, including any building materials or stored items we cannot clean adequately.

SERVPRO of Benton / Carroll Counties is ready to assist with mold remediation any time a homeowner suspects a problem. Call us at (479) 787-7377 when you notice staining or that distinctive musty odor that might signal a mold damage problem.
Click here for more about Bentonville.