What To Expect When Our Professionals Restore Your Siloam Springs Home
1/29/2019 (Permalink)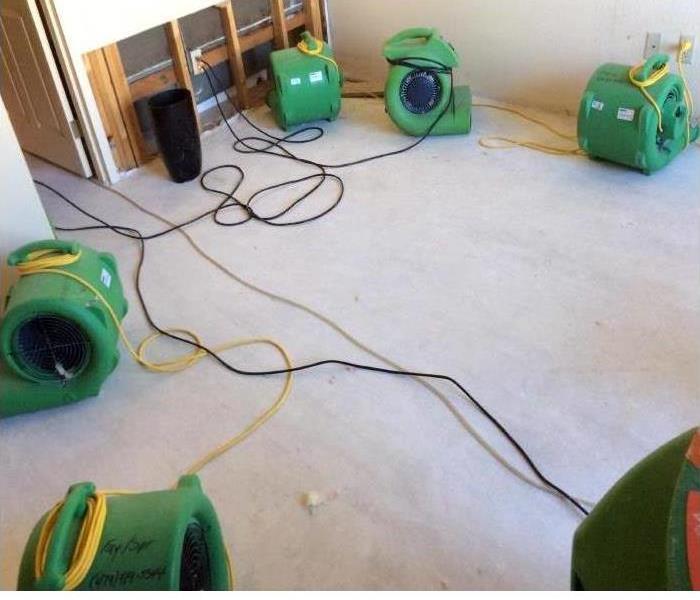 Our team will respond quickly and will bring the right equipment to restore your home after water damage.
Determining Appropriate Water Removal Procedures to Restore Your Siloam Springs
After a water event, it is advisable to treat the situation with the urgency it deserves and put in place appropriate water extraction measures. There is no room to take chances with your investments, which means you need to work with specialized service providers who have experience in the water restoration field. This post explains some of the procedures that we employ when restoring both commercial and residential properties in Siloam Springs.
Inspecting the water damage in your Siloam Springs property determines the water extraction methods we use. If standing water stays in place for long, it saturates your items and makes them weaker; which can also be a risk to the occupants or in some cases lead to permanent damage. Our SERVPRO technicians know when it is appropriate to use gas-powered pumps, dehumidifiers, air movers, and other advanced water extraction systems.

Our SERVPRO technicians use monitoring devices to locate areas that are wet and compare their degree of wetness to the standard moisture levels. When we are determining how wet soft materials are, we use a moisture sensor. This device has sharp probes which penetrate the target material. By using a moisture sensor, we can find out how far the moisture has traveled into the item. Whenever moisture is present, a light blinks and a beeping sound is heard.
Some situations require us to determine the exact quantity of moisture in a material. In such cases, we use devices known as moisture meters. Just like moisture sensors, some types of moisture meters have probes which can penetrate through materials when it is necessary to measure the exact amount of moisture - these are known as penetrating moisture meters. We also use nonpenetrating moisture meters that use sensors to determine a material's degree of wetness. They have a scale that our SERVPRO technicians read and record the readings.

No water damage event in your commercial or residential property is too small or too big for SERVPRO of Benton / Carroll Counties. Call us at (479) 787-7377 and allow us to put your property back together.

Grab some friends for an adventure at Siloam Springs Kayak Park click here for more information.