The Ultimate Guide to Water Damage Remediation for Your Rogers Commercial Property
6/16/2019 (Permalink)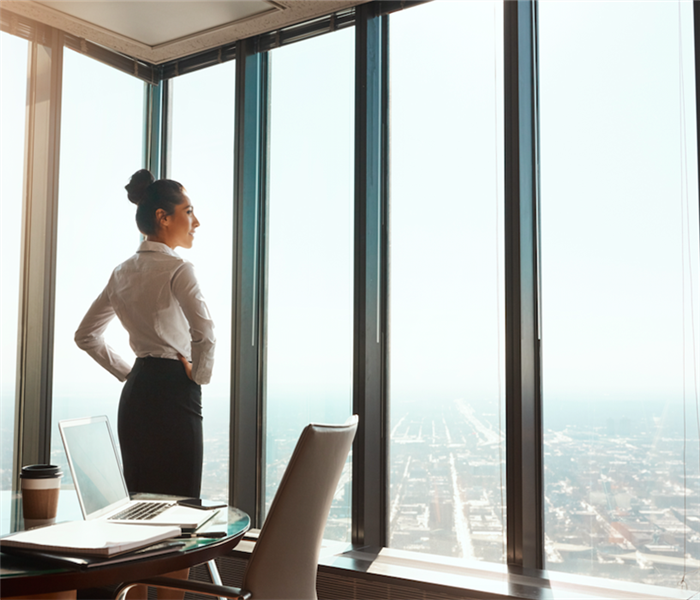 Water damage in your business can be detrimental and overwhelming. Don't go at it alone. Contact SERVPRO today for help.
Useful Steps When Restoring Commercial Water Damage in Rogers Realtor Office
When you deal with real estate, clients expect you to be organized, which can mean different things to different people. However, being on time when you schedule meetings and maintaining proper records of any transactions are among the bare minimums. A water spill incident can ruin your established routine of operations or worse, damage documents and electronics holding vital information for your business operations.
Although you might fail to prevent the main event that causes commercial water damage in Rogers, you can prevent secondary ones that amplify the effect it has on your business. Actions that prevent water from sitting too long in the affected areas help minimize the level of damage caused. Our SERVPRO technicians use different types of water extractors, including the high capacity truck-mounted variety, which expedite the removal process.
In your real estate office, you probably have several paper files and other documents making it a high-risk area for unwanted water intrusion. Even minimal exposure to water or the presence of higher than usual levels of humidity in the air can lead to smudges and other issues that would render the documents useless. Water intrusion can also interfere, even if you run a paperless operation, by damaging your electronic equipment such as computers and printers. Our SERVPRO technicians can help take actions like document freezing to stop further deterioration of any affected papers. We also help remove electronics from the loss site and dry them before a professional can perform through inspection.
Most water spills in office environments might involve clean water because the most likely sources are burst plumbing lines or accidentally tripped sprinklers. However, such incidents still leave the office soiled because water spreads debris. It might also dissolve dyes in fabrics such as curtains or upholstery items. Our SERVPRO technicians do a thorough cleaning of the entire loss site removing any traces of soiling "Like it never even happened."
For an adequately managed restoration of water loss situations in Bentonville, Bella Vista and Siloam Springs, call SERVPRO of Benton / Carroll Counties at (479) 787-7377. We are available 24/7.
Click here to see more about Rogers.