What can SERVPRO do to restore wet rugs after a water loss?
3/31/2021 (Permalink)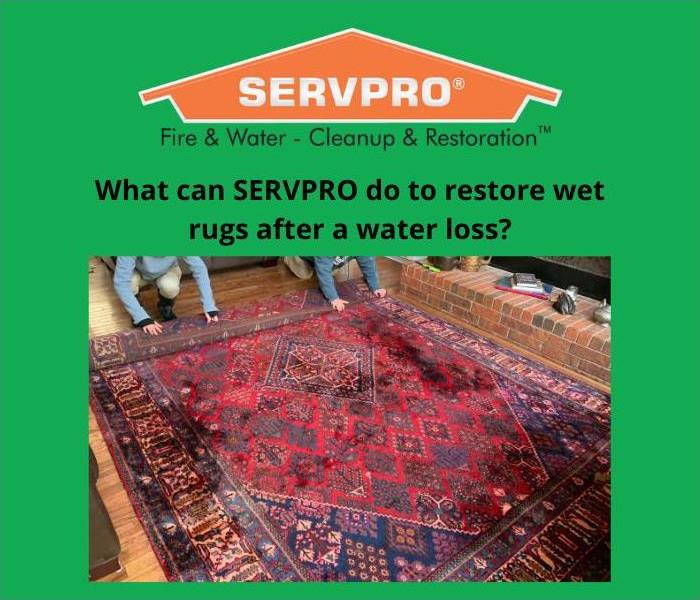 SERVPRO can restore all kinds of rugs from fringe to oriental style rugs; we can restore your rug to preloss condition, saving you money!
SERVPRO is the premiere choice for Water Damage Restoration in Benton and Carroll Counties. We use strategic drying techniques and professional grade equipment to extract water from floors and rugs.
When you call SERVPRO and tell us that you've had a water loss in your home, we are Here to Help! The SERVPRO team will take information from you, like your Insurance Carrier and Claim Information to better assist you as we get further into the job. We operate our office locally and answer our phones at any time of day!
Once SERVPRO is on-site, we are able to take the moisture levels of any affected areas and determine the best plan of action for drying your home. During the assessment, we will also determine how much equipment is needed for the job and whether or not a pack-out is necessary. At that point, we can take rugs and bring them to our secure warehouse where the rugs can be properly cleaned and dried out.
SERVPRO works with your Insurance Adjuster to make sure that we meet any requirements set by your insurance provider or in your policy. This is one way that SERVPRO helps to care for you in your time of need. We understand this can be a hard situation to deal with and we want to work with you to minimize that as much as we can.
SERVPRO of Benton & Carroll Counties should be your first choice for any residential or commercial restoration needs. Our team of professionals is trained to assess the damage and potential threats, extract and contain the affected area, dry, and restore your property to preloss condition.
SERVPRO of Benton & Carroll Counties is available 24/7 by calling 479-318-6774.
For more about SERVPRO of Benton & Carroll Counties, click here.