Preventing Water Damage in Your Bentonville Kitchen
8/24/2017 (Permalink)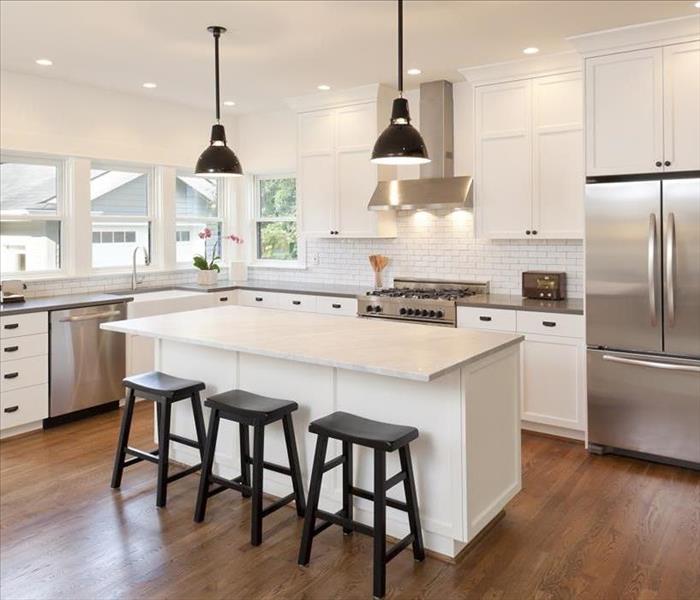 Keep your kitchen free from water damage by regularly checking for dishwasher leaks, drips under your sink, or moisture behind your refrigerator.
Checking for potential water damage problems in your kitchen
Although you frequently clean and use your kitchen, you could be neglecting the signs of warning indicating impending water damage and moisture. There are sources of moisture you can look for in your Bentonville home which could help you prevent water damage in high-risk areas.
All dishwashers leak if given enough time, creating massive water damage in your Bentonville kitchen. The main filter can be clogged and need prompt replacement. If your sink is overflowing, it is likely due to the dishwasher back-ups, which usually happens when the drain line is clogged. Inspect and clean the line regularly. Other indicators are warped, stained, or soft flooring materials around the dishwasher.
When you have had a dishwasher leak or any other leak in your kitchen, SERVPRO, an experienced water damage remediation company, can assist you with all the cleanup and repairs. We know that time is of the essence to prevent additional damage, and we do not waste any time after you contact us.
Regularly check under your sink as well. Get rid of anything you have stored in the sink cabinet and check for leaks. A drip in the sink trap could be a sign of drainage problems and needs to be repaired right away. A partially blocked drain could cause slow draining pipes around the sink. A faucet which is constantly dripping also needs to be fixed immediately. If sink seals are loose or cracked, replace them.
The area behind your refrigerator is difficult to reach, but a periodic inspection significantly reduces the change for problems which are water-related. Moisture behind the fridge is a big warning sign. Do not ignore any sign of leaks or moisture, and fix them right away or hire an appliance repair technician. If mold is spreading under the refrigerator, our SERVPRO technicians can take care of this before it gets worse. We find the source of moisture and make the necessary repairs.
When you have an ice maker in your fridge, check the hose connection to ensure it is sealed and attached securely to the water supply line. Don't ignore leaks here, either.
SERVPRO of Benton/Carroll Counties is experienced and trained to handle any water damage in your kitchen, including mold growth. When you are in Bentonville, Bella Vista, or Rogers, you can reach us at any time just by dialing (479) 787-7377.
For more information about Bentonville, click here.