Planning For Flooding in Bentonville
12/15/2017 (Permalink)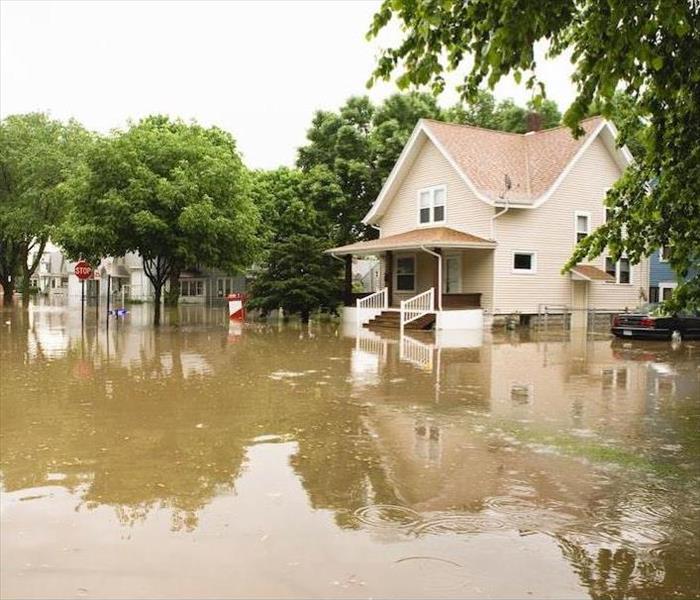 Flooding can happen very quickly and be devastating. Contact SERVPRO before the storms to be ready to restore damage if and when it happens.
SERVPRO Technicians Help Prevent Flood Damage Mayhem With an Application
Over the past several seasons, the incidence of flash floods in the Bentonville area continues to rise. Storms within the last year dumped more than 15 inches of water in parts of Northwest Arkansas in just a week -- more than 2 inches a day. Preparing for possible disaster starts with selecting an experienced and reputable restoration company before the catastrophe happens.

Knowing that Bentonville flood damage is likely to be a risk in your home is a signal to plan ahead. Rather than merely reacting, consider taking the time to prepare for a flooding fiasco. We employ a comprehensive Emergency Ready Plan and Profile (ERP) system that both residential and business customers can access.

After an initial contact with SERVPRO, we send an experienced project manager to your home to complete a thorough assessment to form the basis for the ERP. Many years in the flood restoration business gives us a unique perspective when evaluating the possible outcomes of flooding that may overwhelm your particular dwelling the next time one monster storm follows another. Review of the location of your HVAC and other mechanical systems, storage areas, and alternative family living areas helps us advise you as to practical steps you can take to limit your exposure to irreparable flood damage.

Since flood water swiftly soaks boxes of stored papers, furnishings, and floor coverings, we recommend that you consider elevating items or moving essential documents and heirlooms permanently to the upper floors of your home. Although our SERVPRO crews train to dry flood-saturated carpeting and upholstery, you may choose to confine wall to wall carpets and padded furnishings to areas of your house where storm runoff is rarely an issue.

A proactive walk through your home using our ERP mobile app provides you with the opportunity to inform us about your priorities should a flooding event occur. You designate a chain of command we follow if you are out of the area when a flooding event damages your house. Name a relative or neighbor to contact us and be sure to list the names and contacts of your utility companies and the vendors who installed your appliances.

SERVPRO of Benton / Carroll Counties is ready to restore damage from flooding in your home, but we also believe in minimizing the damage by preparing. Contact us at (479) 787-7377 for immediate assistance or to meet to create an Emergency Ready Plan and Profile.

For more information regarding the city of Bentonville, click here.