Long-Term Effects of Unnoticed Water Damage in Rogers
2/28/2018 (Permalink)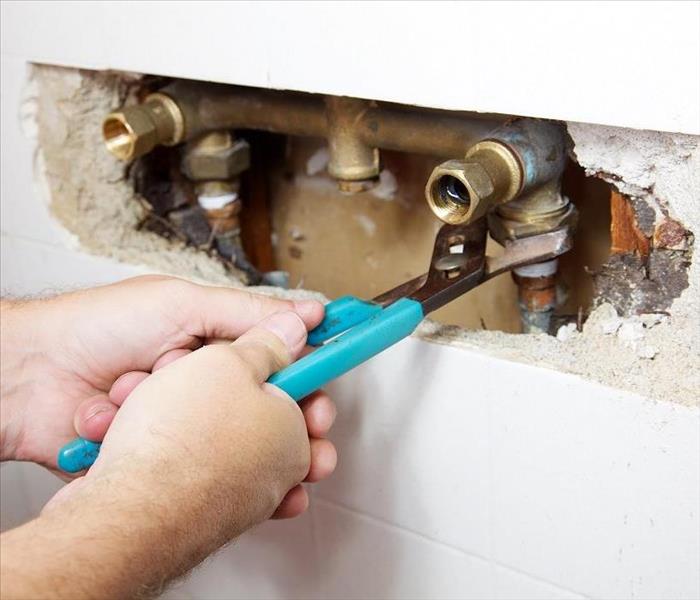 A small leak overtime can lead to extensive damage requiring professional water damage restoration services.
SERVPRO Restores Water Damage and Prevents Future Damage
The nightly news and internet fill with stories and pictures of significant water disasters. Although these events can result in severe consequences to homes in our area, it is far more common for less sensational causes to underlie damage by water. We are ready to assist with the damage water brings to your home and belongings, regardless of the background of the problem.
A home in Rogers risks water damage from many different hidden events. Because our homes are laced with plumbing and equipped with appliances and fixtures that use or manage water, small amounts can escape and begin progressive damage to structural components and belongings. We train our water damage work crews to find the source of the problem as well as to employ effective strategies to restore the compromised building materials and contents.
SERVPRO technicians know small cracks in piping or loose connections allow water to escape between walls or behind cabinets. An unmentioned tub or sink overflow can soak through flooring and drip onto the ceiling below. Loose flashing or an ice dam permits water to invade in small amounts into an attic. All of these scenarios result in water damage that eventually causes walls or floor to buckle, ceilings to bulge, or wooden fixtures to weaken and splinter. Mold and dry rot also can become an issue, and may be the first sign of water damage you can no longer ignore.
Our production team crew members are amazing detectives and find the small leaks that now threaten big problems. SERVPRO arranges for the repairs to limit further damage, and then we turn our attention to drying out the water damaged areas. Depending upon the extent of the harm, we might need to remove sections of walls or ceilings to give us access for drying and restoration. High-efficiency air movers, heaters, and dehumidifiers pull moisture from the saturated building materials. If wooden floor show damages, we employ drying mats or loosen and lift planks to ensure the warm air circulates to all levels, including the subfloor.
A baseline moisture reading of all affected structural components gives our team data to determine drying goals. The SERVPRO crew periodically remeasures moisture content to ensure we accomplish those goals, which may be different depending on the type of material. Once all wet areas dry per the plan, we repair and replace the sections of walls, ceilings, floors, and cabinets to restore your property to preloss condition.
SERVPRO of Benton / Carroll Counties is an industry leader in restoring water damaged spaces and contents in your home. Feel confident that when you call (479) 787-7377 our efforts deliver your property back to you "Like it never even happened."
More on Rogers here.