Bentonville's Commercial Water Damage Technicians
3/25/2018 (Permalink)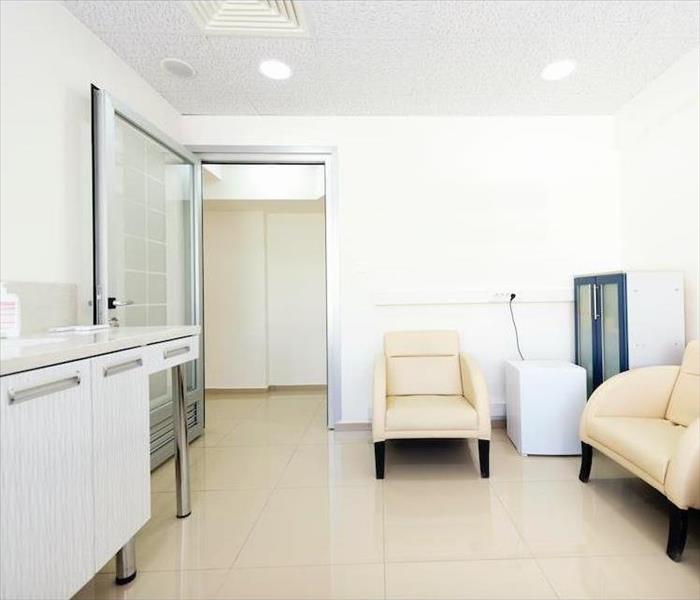 Doctors' offices need to be clean and sanitary. Should you have a water damage event at your office or other place of business, contact SERVPRO.
Certified SERVPRO Technicians Remediate Water Damage in Offices and Industrial Facilities
If a pipe breaks inside your Bentonville doctor's office, areas inside your building possibly flood. Anytime there is standing water present or unwanted moisture inside your office, the business likely suffers. When getting problems resolved, it is best that it gets done in a way that does not inhibit company operations.

A mitigation project does not necessarily have to cause business operations to cease. SERVPRO's commercial water damage specialists in Bentonville have experience in restoring problems while keeping the daily functions of your business in mind. Sometimes procedures get changed to prevent loss of revenue to your business.

The first step we take as soon as we enter your business is to secure the work area. Any possible hazards that exist as a result of the pipe break get removed. Signs get put up, and furniture gets moved making the area as safe for your employees and patients as possible.

Once the area is secure, the extraction process takes place. We vacuum up any standing water in the area first. Then we use specialized vacuum extensions to pull water out of carpet and upholstery. Sometimes, we complete the extraction phase in multiple steps so that foot traffic inside your office does not get impeded.

Many times carpet pad gets removed during the extraction process. To do that, our technicians disengage the carpet with a carpet awl and a knee kicker. Next, we cut the carpet at its seams in as few places as possible. After that, we pull the carpet back so that the padding gets exposed.

Then, we extract as much of the water out of the carpet pad as possible. If moisture ruined the structural integrity of the pad, then it must get cut back and removed. Sometimes carpet inside your doctor's office gets saturated with water and discarded as well.

We then put the carpet and pad in sealed plastic bags and dispose of them properly. We always cut a two-foot square section of the pad or carpet to use as a sample for replacement. Later, water gets extracted from the subfloor.

After extraction, the drying process takes place. Sometimes drying gets done differently depending on the damage done to the office. If water ever leaks into your doctor's office, call SERVPRO of Benton / Carroll Counties at (479) 787-7377 for assistance 24/7.

Click here for more information regarding the city of Bentonville.