Fire Damage Restoration for Your Bella Vista Residence
3/28/2018 (Permalink)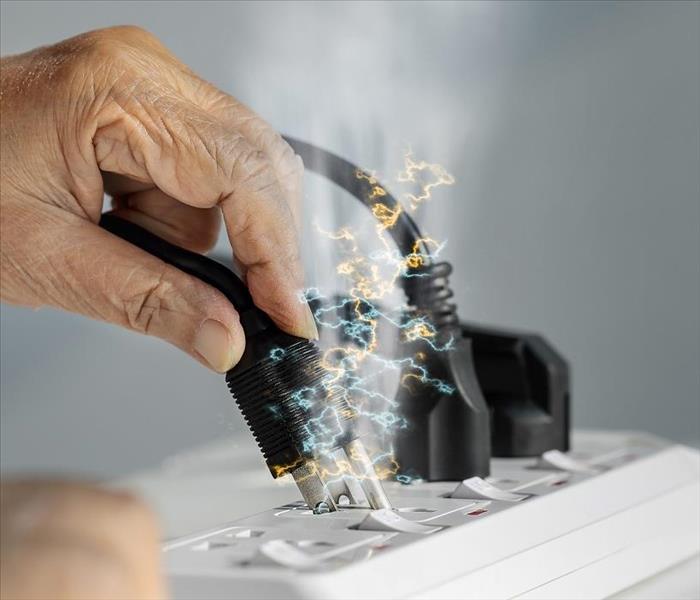 Homes with inadequate wiring causing fuses to blow and circuit breakers to trip can increase the chances for fire damage.
SERVPRO Thoroughly Cleans Your Home and Its Contents after Fire Damage
Older homes in Bella Vista may have inadequate wiring, which poses a risk for fire. Signs of lousy wiring include fuses blowing or circuit breakers frequently tripping, needing to disconnect one appliance to plug another one in, lights dimming when you use another appliance, or having to use a lot of octopus outlets or extension cords.
Faulty and inadequate wiring can quickly create a fire and fire damage in your Bella Vista home. Going through a fire of any size is scary and disrupts your family's daily life. To get back to normal, your home is going to need restoration and cleanup. Our technicians at SERVPRO can assist you will all of this in a timely fashion. Plus, we are available anytime you need us.
When cleaning up after fire damage, four elements affect how residues and soils are suspended in cleaning products. These include agitation, temperature, chemical action, and time. All of these elements are used in sufficient cleaning.
Molecules move faster with heat. The faster they move, the faster the speed of the chemical reaction between cleaning solutions and soils. Each product has its correct temperature that SERVPRO staff use. We pretest and follow label directions, plus use the right process steps for each method of cleaning.
During agitation, we move the surface being cleaned, the cleaning solution itself, or both. Agitation is used for dislodging soils. After the bond is broken between the surface and soil, the soils are washed away. There are several methods we can use for agitation including rotating brushings, air pressure, water pressure, wiping, scrubbing, and sand-blasting.
Cleaning solutions help bridge the gap between water and soil, making the process of cleaning easier. The fundamental principle here is like dissolves like materials. A water-based cleaner, for example, is best for dissolving water-based soils. Other chemical actions are used to achieve results such as detergents helping oil-based soils to mix with water-based cleaning solutions. We utilize various chemical actions to break the bond between surfaces and smoke residues.
Time in regards to restoration refers to dwell time. It is the time that is needed for soils to dissolve and the chemical action to work. It varies for different cleaning processes and professional products. Specific time requirements are based on various factors such as the kind of soil, the kind of material, the method of agitation, and the temperature of the cleaning solution.
SERVPRO of Benton / Carroll Counties works diligently to clean your home in Centerton, Berryville, or Green Forest thoroughly after a fire. We can be reached easily by dialing (479) 787-7377, so get in touch with as soon as the flames have been put out.
Click here for more information on Bella Vista.