Roof Holes Can Create Attic Flood Damage to Your Eureka Springs Home
4/6/2018 (Permalink)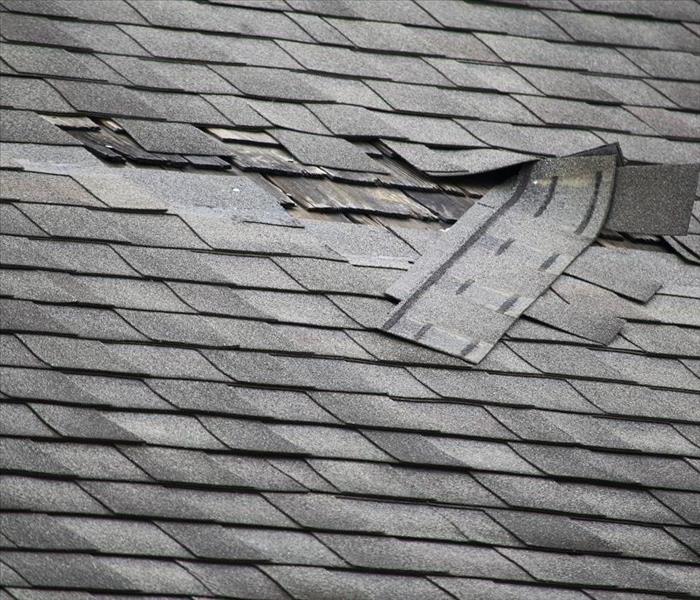 If you roof is damaged during a storm, it is important to call SERVPRO as soon as possible to begin the restoration process to prevent future damage.
If a Storm Catches You Unprepared, Call on SERVPRO to Help Restore Your Home
While you might not always see some of the worst weather that even neighboring states might experience, your Eureka Springs home could be at risk for something coming inland off the Gulf of Mexico to show how unprepared you are for dangerous storm systems. The trouble with harsh weather is that you can never get fully prepared for it because there are so many different ways that storm damages can occur.
The unfortunate drawback of not being prepared for the damage that any single storm can do passing through the area is flood damage to your Eureka Springs home. While this might not always be the result from torrential downpours and high winds, once an area of your home gets exposed to the high volume of rainfall coming down, it does not take long to pool in whatever area of your home has gotten exposed.
While you tend to think of flooding occurring in the basement of your home, our SERVPRO professionals have seen many instances where this was not the case. A common flooding area on account of storm damage is your attic, which poses a unique threat to the rest of your home. If the problem does not get corrected quickly, this pooling water in your attic area can and will affect the ceiling and areas that sit below it.
Once you have recognized that there is damage to the roof of your home, and water can get through unabated, the time has come to reach out to our SERVPRO professionals. We can get to work quickly to seal up the damaged areas to prevent further water damage while our extraction process begins. With high volumes of water, we use a pump truck from our fleet of vehicles along with a wet vac fitted with an extraction wand for more intricate work.
Drying the area is a critical component of our restoration process, and given the nature of the affected area, likely requires several pieces of equipment to accomplish. Air movers are at the heart of this process, but it typically also requires industrial strength dehumidification equipment and specialty tools like drying mats or our injectidry system to clear the moisture out from inside walls.
This explanation might be a small part of the overall restoration process, but it can go to show the high level of experience and dedication that you can expect to receive from SERVPRO of Benton / Carroll Counties. Give us a call 24/7 at (479) 787-7377.
Click here for information on Eureka Springs.