Mitigation Of Commercial Fire Damage To Your Electronics Shop In Rogers
5/29/2018 (Permalink)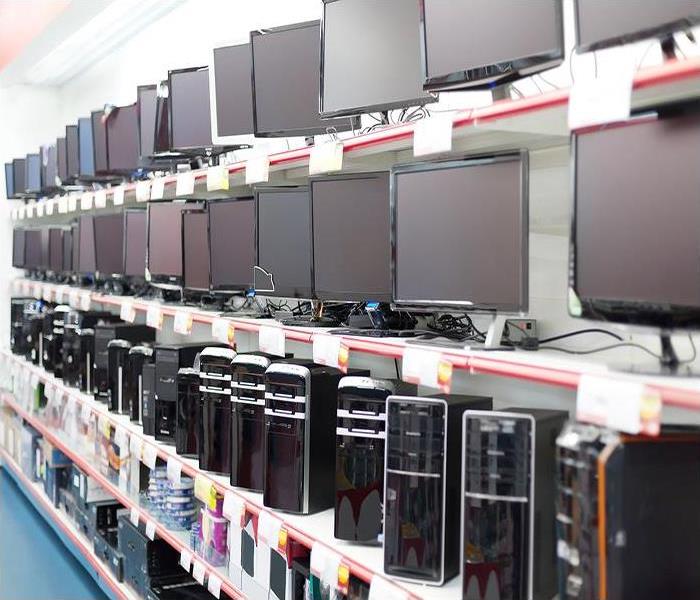 When a retail electronics shop in sustains commercial fire damage, SERVPRO technicians restore your building's interior to a smoke-free environment.
Mitigation Of Commercial Fire Damage
Maintaining contact between generations in families now takes place with the help of computers, cell phones, and tablets connected to the internet, increasing the demographics to include everyone in Rogers of any age. Providing services to the community that not only fulfills their communication needs but also satisfies the entertainment demands in many ways keeps electronics shop in business.

When a retail electronics shop in Rogers sustains commercial fire damage, SERVPRO technicians restore your building's interior to a clean, smoke-free environment again. While we perform the necessary mitigation work, our partners in electronics repair help ensure that any inventory damaged by soot or moisture from firefighters' water hoses stays minimized. This might require boxing up prepackaged items for cleaning at their site. We can help facilitate packing these items up with our partner to speed up the entire mitigation process.

Mitigating the damage from the fire and smoke produced includes cleaning all surfaces - walls, ceilings, shelving and other display units, windows, and lighting fixtures. Some bulbs do not do well with cleaning and might require replacements to function correctly. Others may suffer breakage during the fire, also. We remove any broken bulbs with the other debris from charred or melted materials.

Some smoke damage from a fire hides inside the air ducts and vents. We help ensure these areas once again become clean and unable to stir up smoke particles when you turn on the air systems. Returned inventory and future shipments can sustain damage from any particles blown in on them if any soot or smoke particles remain in your air systems' ducts or vents.

Odors from fire damage can persist when carpeting contains soot. Our Fire and Smoke Restoration Technician (FSRT) assists our other IICRC-certified employees in restoring your carpets to preloss condition. This might include odor control treatments where we inject deodorizing agents directly into the carpeting and padding when standard cleaning does not remove enough of the odor-causing particles. Because these particles can remain very hot after they fall into the carpeting, they quickly bond to the carpet fibers.

SERVPRO of Benton / Carroll Counties helps businesses of all sizes recover faster from fire damage and other catastrophes that can force businesses to close permanently. We can be reached at (479) 787-7377 to assist you in both a quick recovery post-event or by helping you make a READY Plan Profile that can assist you in the event of any disaster. Serving all sizes and types of businesses in the Bella Vista, Eureka Springs, and Berryville areas, we are here to keep your business thriving and contributing to our area's community.
Click here for more about Rogers.